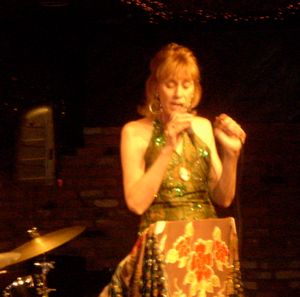 Ingrid's Biography

Ingrid Hagelberg aka Vismaya (a nick name she has used for many years)  was born and raised in the south of Sweden. She likes to say her musical career began at the age of five when she performed a little song (Om Papa Ville Ge Jag en Femöring...) for party guests at her parent's home. She knew then and there that it was her destiny to sing.

At the age of 18, Ingrid  left home and moved to Paris, France. It was there she fell in love with the street and cabaret music of Paris, where she heard the songs of Edith Piaf and Charles Aznavour, and many others who inspired her.

She  returned to Sweden a few years later… deciding it was time to "get serious"… to get an education. While in teachers college, she continued to dabble in theater and music, performing cabaret in Fredags Barnen in Malmö. Teaching grade school was not in the cards. After her college days she again affirmed her lifetime dream to pursue a career in music. So finally, at the age of 27 she packed her bags and headed for America… a leap of faith that changed her life. She landed in Los Angeles, where she gradually earned recognition as a class act singer/performer.

While in L.A., Ingrid  played a starring role in "I Remember Mama", a play about a Norwegian immigrant family in the early 1900s. She received the Glendale Center Theater best actress award that year for her performance. Her days as a struggling jazz singer in L.A. were also the inspiration for several original jazz tunes and her musical cabaret, "Red Suitcase" story.


Within a year after arriving in LA, she landed her first major contract as a singer which took her on tour in Japan. In Japan she performed at the Playboy Clubs, and several excellent venues in Tokyo, Nagoya, and all over Japan. Vismaya's Red Suitcase show also includes stories of personal growth and empowerment as she learned the ropes of life as a musician on the road.

After returning to California, Ingrid discovered a new love… Brazilian music! Partnering with an Argentinian percussionist, Luis Peralta (formerly with Dizzy Gillespie) she learned to sing samba and bossa nova songs in Portuguese, which added a Latin flavor to her already European flare. Upbeat rhythms, including her orginal song "On a Sunny Day", add joy, love, and inspiration to her international jazz repertoire.

Fate and family next took Ingrid to South Africa where she worked for a year performing concerts, nightclubs, and 5-star hotels. She also recorded with top studio musicians, producing her first major album, Flying High, featuring the best of jazz and Brazilian standards, and some original tunes.

Ingrid Hagelberg performed on Polish television and theater. Her jazz album, Non-Electric Woman, was recorded in Poland with top studio musicians, including well-know saxophonist Zbigniew Namyslowksi, and features three original songs.

While traveling through Europe, Ingrid met Nenad Mandic, a talented classically trained musician composer song writer. Together they formed Charisma Duo and performed pop, jazz and original songs in top Hotels and nightclubs in Germany.
She returned to live in the US and settled in Arizona where she performed for many years while also traveling and performing in Europe (Paris, Vienna, Denmark and Sweden).
She currently lives in  Malmö Sweden and part-time in San Pancho, Nayarit, Mexico, where she performs locally. She has 5 CDs to her credit, including her latest CD, called  "Love Has no Rules" recorded in Copenhagen with top Danish and Swedish jazz musician. It is a collection of original songs in English, French and German. All songs composed by long time songwriting partner Nenad Mandic and Ingrid wrote the lyrics.
Go to the Listen tab to hear samples of her music.